Rosae Rugosae Flos (玫瑰花) is the dried flower bud of Rosa rugosa Thunb., family Rosaceae.

Other name
Dok-Ku-Larb (Thai name), Meiguihua (Chinese name), Rose Flower

Macroscopic character

Nearly hemispherical or irregularly massed. Remaining pedicle pubescent, receptacle hemispherical, accreted with calyx at the base. Calyx 5, lanceolate, yellowish-green or brownish-green, pubescent. Petals frequently crumpled, broadly ovate when unfolded, imbricated, purplish-red, sometimes yellowish-brown. Stamens numerous, yellowish-brown. Style numerous. Texture light, and fragile. Odor, strongly aromatic; taste, slightly bitter and astringent.
Important cultivation area
Jiangsu, Zhejiang, Shandong and Anhui provinces.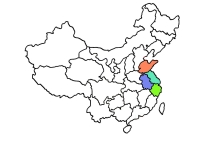 Processing method
Collected before flowering, and dried at a low temperature.
Traditional Chinese Medicine action
Sweet and mild bitter; warm. Enter liver and spleen channels. Move qi, relieve depression, harmonize blood, and relieve pain.

Usage and dosage
3-6 g, decoction for oral use.


* Contraindication and precaution *
-



Copy right of Huachiew Traditional Chinese Medicine Clinic.
For public knowledge.
Commercially copy without permission is prohibited.