Arecae Semen (槟榔) is the dried ripe seed
of Areca catechu L., family Arecaceae (Palmae).

Other name
Mak-Song (Thai name), Binglang (Chinese name),Areca Seed
Macroscopic character

Flattened spherical, external pale yellowish-brown or pale reddish-brown, with slightly dented reticulate furrow, with an obvious scar- shaped hilum. Texture hard, uneasily broken, fracture showing marble-like striation alternated. with brown testa and white endosperm. Odor, slight; taste, astringent and slightly bitter.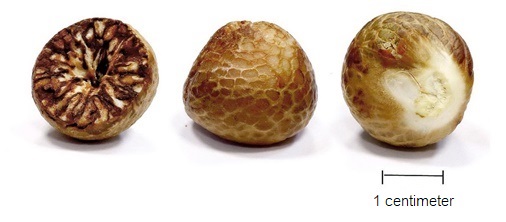 Important cultivation area

Guangdong, Yunnan,Guangxi and Fujian provinces.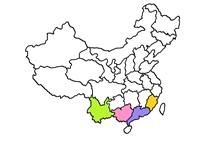 Processing method

1. Binglang: Eliminate foreign matters, soak until thoroughly soften, cut
into thin slices and dry.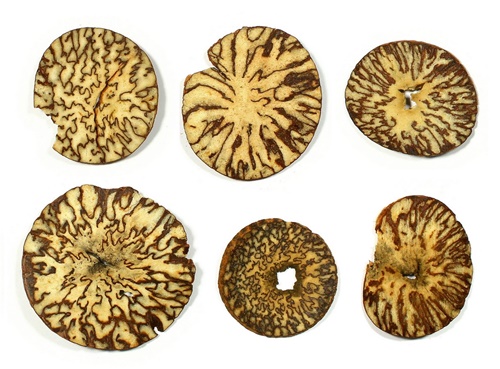 2. Chaobinglang: Stir-bake Binglang on a gentle fire until external turns
pale yellow, sift out fragments.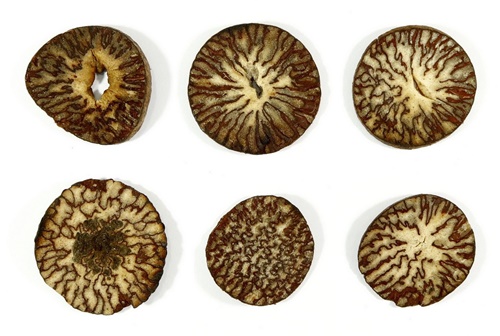 3. Jiaobinglang: Stir-bake Binglang on a medium fire until external turns
scorched yellow, sift out fragments.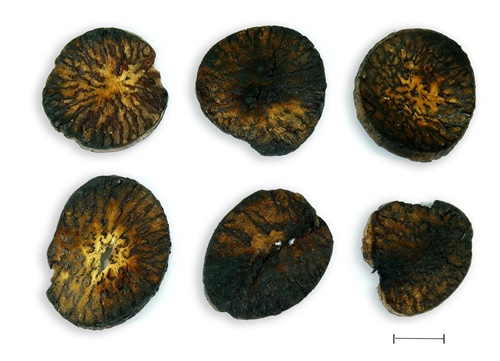 Traditional Chinese Medicine action

Bitter, pungent; warm. Enter stomach and large intestine channels.

1. Binglang: Kill worms, promote digestion, direct qi downward, induce
diuresis and relieve malaria.

2. Chaobinglang: More neutral, prevent the damage of immune (Zhengqi),
reduce side effects (nausea, vomiting, diarrhea and stomachache).

3. Jiaobinglang: Same action as Chaobinglang, more potent in promote digestion.


Thai Traditional Medicine action

Astringent. Used for wound healing, body discomfort, dysentery, sores in
mouth and throat, and used in animal for taeniasis.


Usage and dosage

3-10 g, decoction for oral use. 30-60 g, for taeniasis and fasciolopsiasis.


* Contraindication and precaution *

Contraindicated in patient with qi deficiency and sink downward.
Copy right of Huachiew Traditional Chinese Medicine Clinic.

For public knowledge.

Commercially copy without permission is prohibited.