Fritillariae Cirrhosae Bulbus (川贝母) is the dried bulb of Frillaria cirrhosa D.Don, F. unibracteata Hsiao et K.C. Hsia, F. przewalskii Maxim or F. delavayiFranch., family Liliaceae

Other name
Chuanbeimu (Chinese name), Tendrilleaf Fritillary Bulb
Macroscopic character
Songbei (F. cirrhosa, F. unibracteata, F. przewalskii): Subconical or subspherical. External whitish. The outer scale leaves 2, varying considerably in size, with the large scale closing embracing the small one, the uncovered part appearing crescent, commonly known as "Huaizhong Baoyue". Apex closed with subcylindrical, apex obtuse or slightly acute, base even and slight concave, with a greyish-brown disk at central part. Texture hard and fragile, fracture white, starchy. Odor, slight; taste slightly bitter.

Qingbei (F. cirrhosa, F. unibracteata, F. przewalskii): Nearly oblate. Outer scale leaves 2, almost uniform in size, embraced. Apex open, with buds and 2-3 scales inside and slender cylindrical remains of a stem.

Lubei (F. delavayi): Long conical. External whitish or pale brownish-yellow. Outer scales leaves 2, almost uniform in size. Apex open andslightly tapering, base slightly acute or relatively obtuse.

Important cultivation area
Sichuan, Qinghai, Yunnan provinces and Tibet Autonomous Region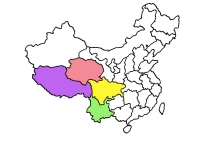 Processing method
Eliminate fibrous root, bark and soil, and dry in the sun or in low temperature.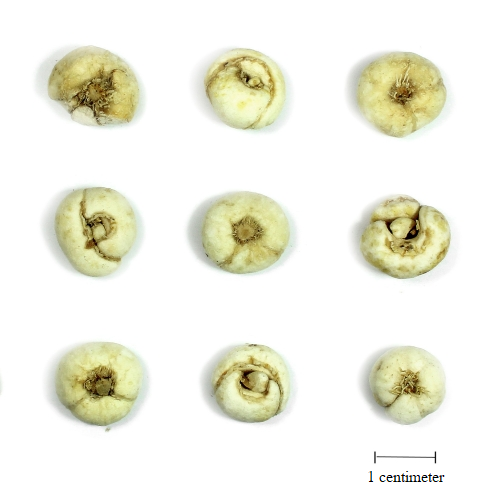 Traditional Chinese Medicine action
Sweet, bitter; slightly cold. Enter lung and heart channels. Clear heat and moisten the lung, resolve phlegm and suppress cough, dissipate binds and disperse abscesses.
Thai Traditional Medicine action
-

Usage and dosage
3-10 g; ground into powder and taken with water, 1-2 g each time.


* Contraindication and precaution *
Incompatible with Chuanwu, Zhichuanwu, Caowu, Zhicaowu and Fuzi.



Copy right of Huachiew Traditional Chinese Medicine Clinic.
For public knowledge.
Commercially copy without permission is prohibited.