Pseudostellariae Radix (太子参) is the dried root tuber of Pseudostellaria heterophylla (Miq.) Pax ex Pax et Hoffm., family Caryophyllaceae.

Other name
Taizishen (Chinese name), Heterophylly Falsestarwort Root
Macroscopic character
Slenderly fusiform, slightly curved. External yellowish-white, relatively smooth but slightly wrinkled longitudinally, with rootlet scars at dents. Apex with stem scars. Texture hard and fragile, fracture even, pale yellowish-white and horny. Odor, slight; taste, slightly sweet.


Important cultivation area
Jiangsu, Shandong and Anhui provinces.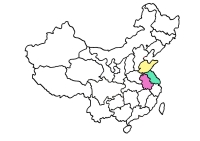 Processing method
Wash clean, remove rootlet, dry in the sun or treat with boiling water for a moment and then dry in the sun.
Traditional Chinese Medicine action
Sweet and slightly bitter; neutral. Enter spleen and lung channels. Tonify qi and fortify the spleen, engender jin and moisten the lung.


Usage and dosage 9-30 g, decoction for oral use.


* Contraindication and precaution *
-



Copy right of Huachiew Traditional Chinese Medicine Clinic.
For public knowledge.
Commercially copy without permission is prohibited.